D.O.B November 9, 2017
HD:A ED:0-0 Eyes:Clear
PRA: Normal/Clear

HNPK: Normal/Clear
CNM: Normal/Clear
DM: Normal/Clear
RD-OSD: Normal/Clear
SD2: Normal/Clear
Long coat: Normal/Clear
EIC: Carrier

Colour: eeBB (pure yellow)
* Fresh semen can be shipped

1x BIS (out of 7300 dogs!)
6x BIG
12x BOB
17x CAC
9x Junior CAC
Crufts qualified
Junior Winner 2018
Dutch Junior Champion 2019
Belgian Junior Champion 2019
German Junior Champion 2019
Europa Sieger 2019
Spring Winner 2019
Latin Winner 2019
Benelux Winner Belgium 2019
"A home bred Woefdram's boy!"
When we used the stunning American dog BISS.Am.Ch.Clearcreek Bonaventure Dust in the Wind for our lovely black girl Int.Sh.Ch.Clearcreek Bonaventure Texas Cowgirl, we could only hope and keep our fingers crossed for a nice litter. Luckily, Texa got in whelp of a good sized litter and it even turned out to be an amazing litter when it comes to health, temperament and type! 4 puppies from this litter can be found in the showring and passed their hip, elbow & eye certs too!
Fitch has amazing showresults already! Here are some nice critiques written by judges:
Nearly two years old. Top quality dog. Correct size and proportions. Beautiful head with correct ears, eyes and expression. Beautiful outline all over. Strong neck going into a front which is a pleasure to go over: well angulated, good forechest, and brisket. Good topline and tailset. Very well angulated hindquarters with nice short hocks. Straight front legs with very good bone and feet. Parallel movements in coming and going. A joy to look at in profile! (BOB in Bremen, judge Mrs.Van Genechten)
Eyecatching yellow. Lovely head with a smiling expression. Correct eye, ear and bite. Body & constructionwise, like a Labrador should be! Super temperament and sound on the move. (BOB in Echt, judge Mrs.Mensink)
Lovely outline. Deep bodied with good spring. Nice short loin. Lovely shoulder and rear angulation. Good strong neck into good topline. Good coat. Moved very well. I do really like this dog! (BOB in Venray, judge Mrs.Connoly)
15 months old. Stunning young male of an excellent type. Masculine head with correct proportions. Good eye, good earset and correct dentition. Elegant neck, flowing into a good topline and correct tailset. Enough chest and depth of brisket. Good bone and feet. Good coatcondition. Fabulous presented and stunning on the move. (BOB Eindhoven, judge Mrs.Boesmans)
Yellow, lovely breed type. Perfect muscle condition. Good topline, nice bone, powerfull rear. Stands four square. (BOS Beckum, judge Mrs.Mortier)
Really lovely boy with lovely Labrador expression. Excellent outline. Excellent angulations in front & rear. Excellent topline and tailset. Correct ottertail. Lovely temperament. In nice condition + undercoat. Very sound mover. Really attractive dog. Everything is correct for the age. (BOS Rijnland, judge Zeppi)
A future star! Could handle the whole showring already. Pleasing male head. Excellent pigmentation and eyecolour. Well set ear. Nice neck & topline. Good ribcage. Excellent bone and feet. Excellent coat. Super happy puppy who moves through the ring with allure. (BOB Baby Goes, Mrs.Halff-van Boven)
With of course the highlight of going BEST IN SHOW at the Europasieger show in Dortmund out of 7300 dogs!!!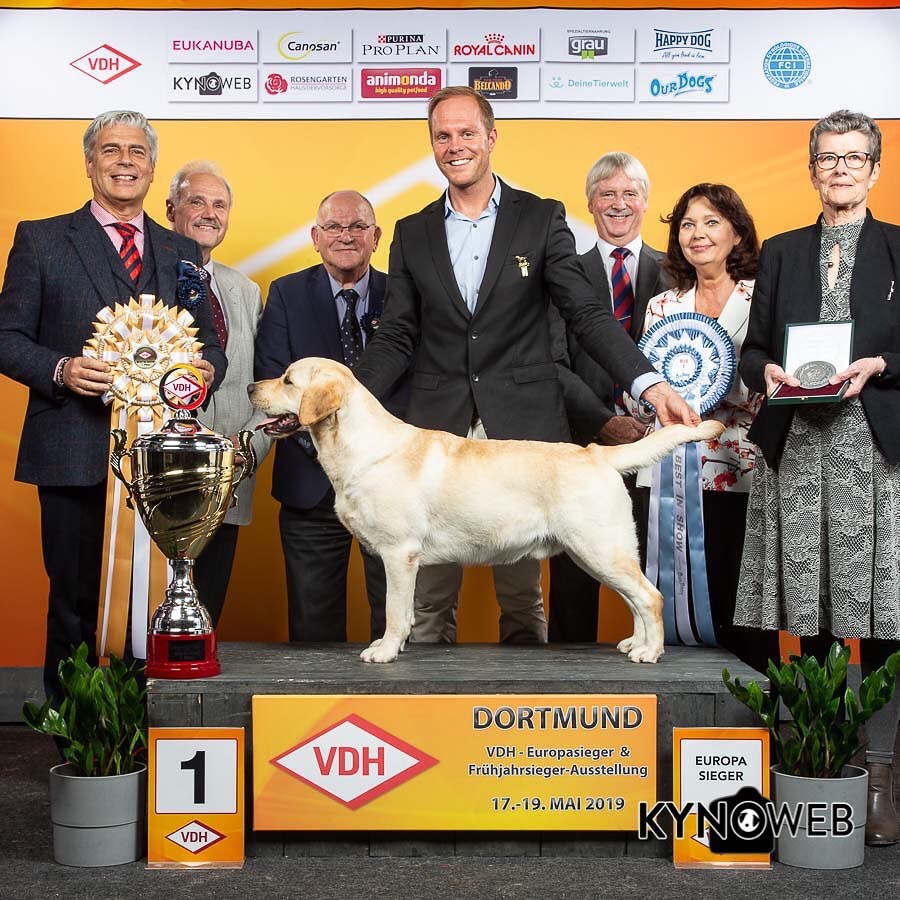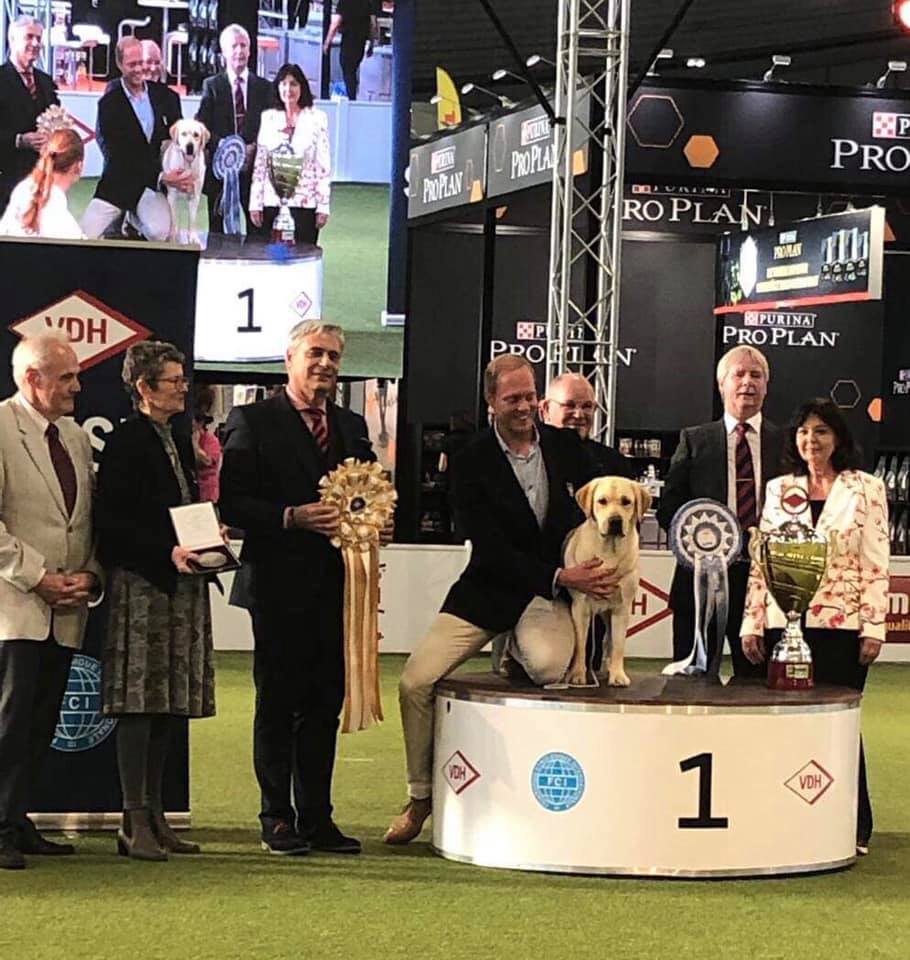 @ 19 months in Paris going BOB & BEST IN GROUP!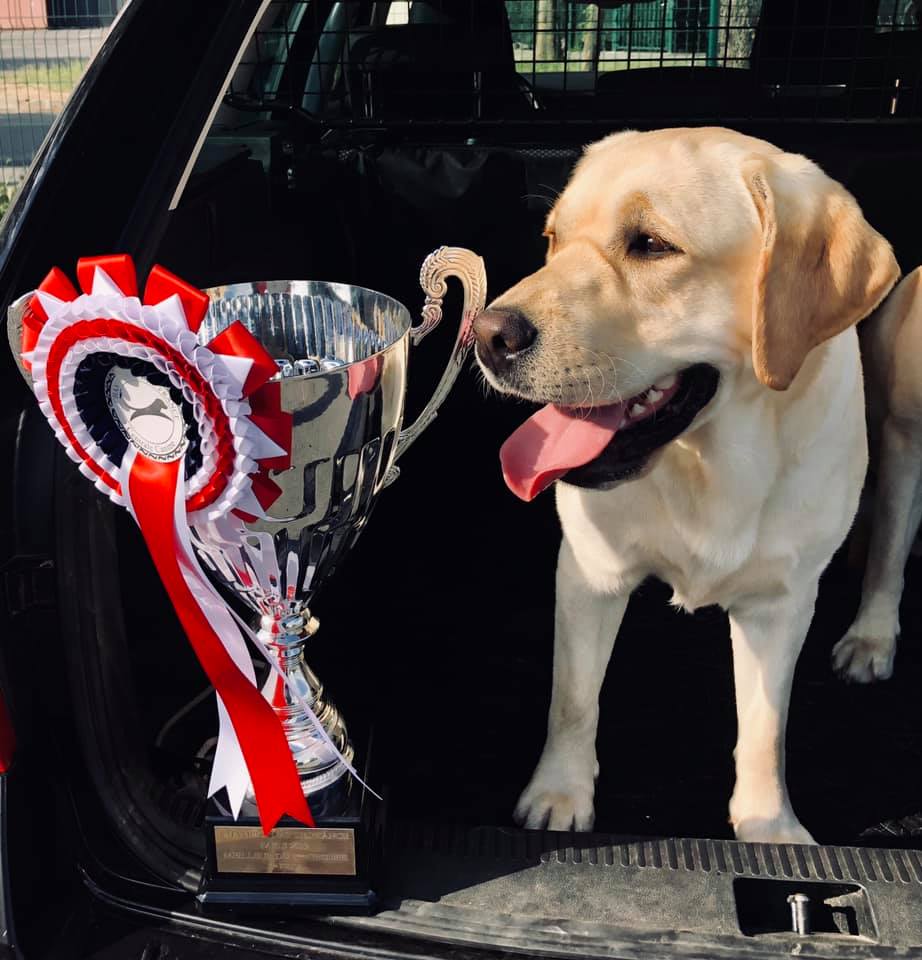 @ 12 months in Brussel going BOB & BEST IN GROUP!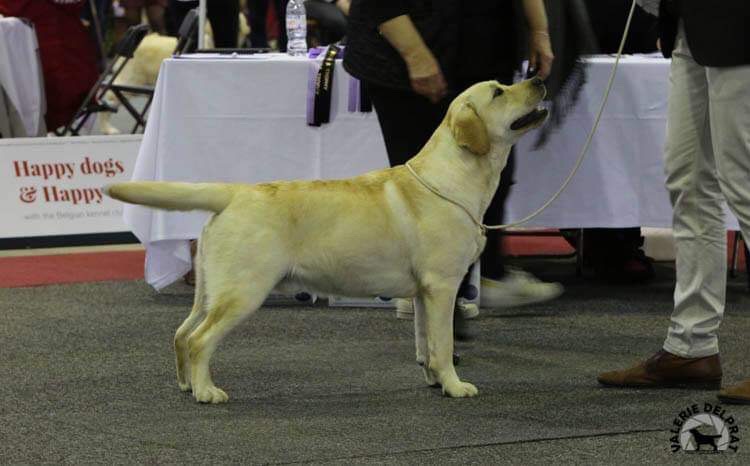 Fitch has sired some litters now and he seems to put his stamp on his offspring. Producing great heads, front, bone and coat. His first offspring do really well in the showring already.
King Fields Sneezy @ 4 months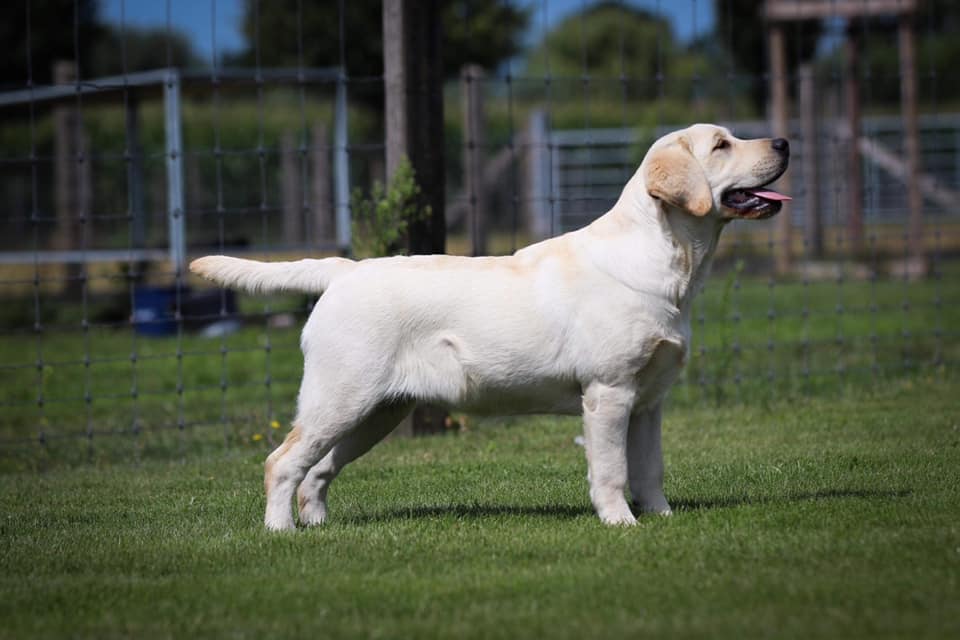 King Fields Grumpy @ 4 months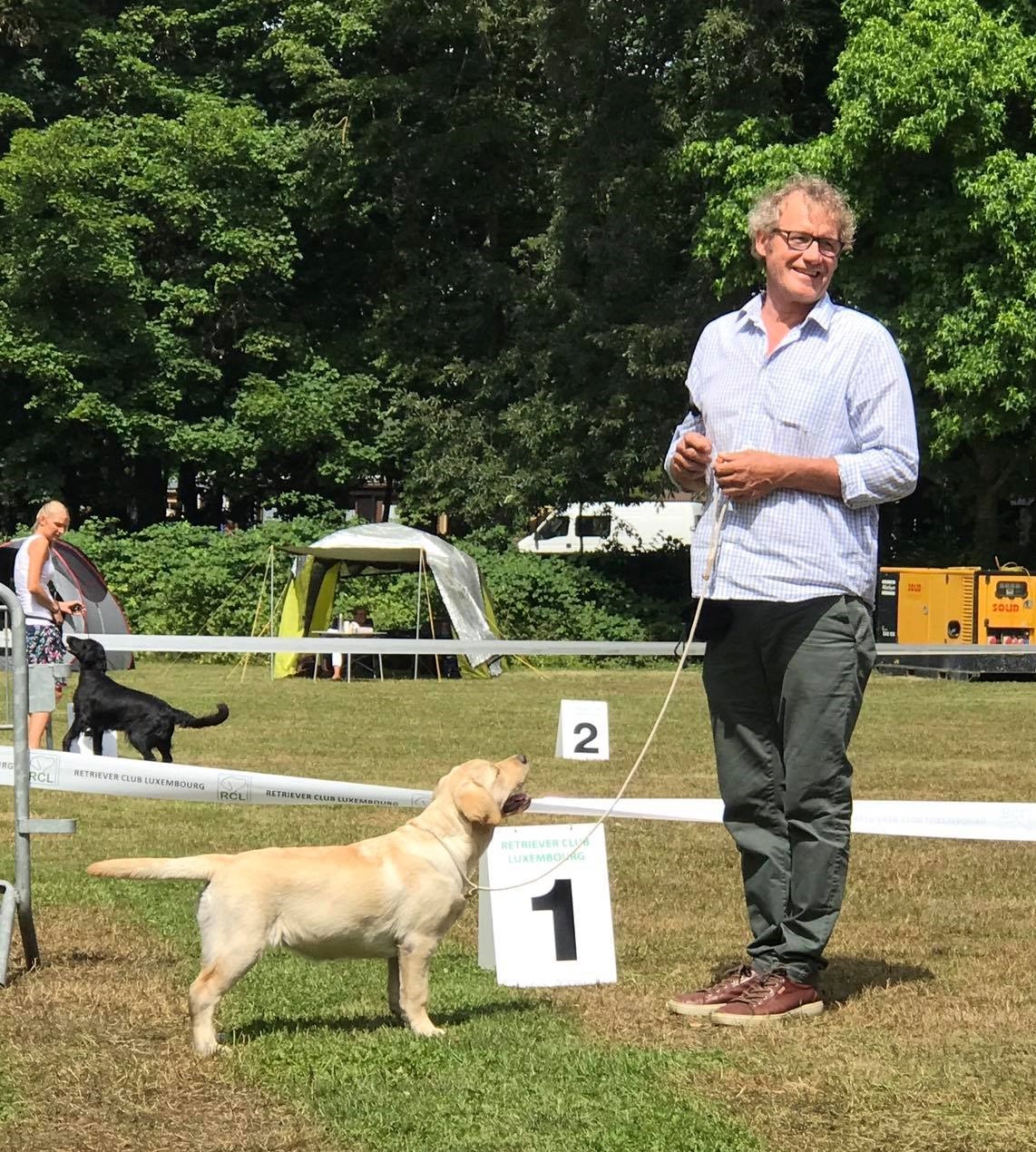 Some King Fields puppies, 7 weeks old.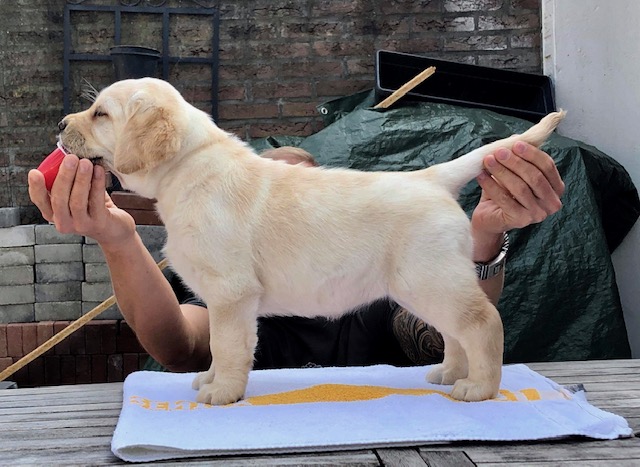 Riverflow Abercrombie Everytime @ 5 months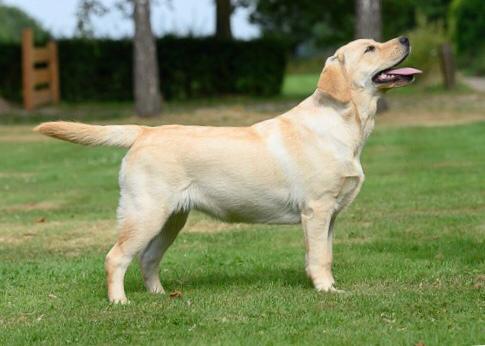 Born at the Riverflow kennel, 6 weeks old.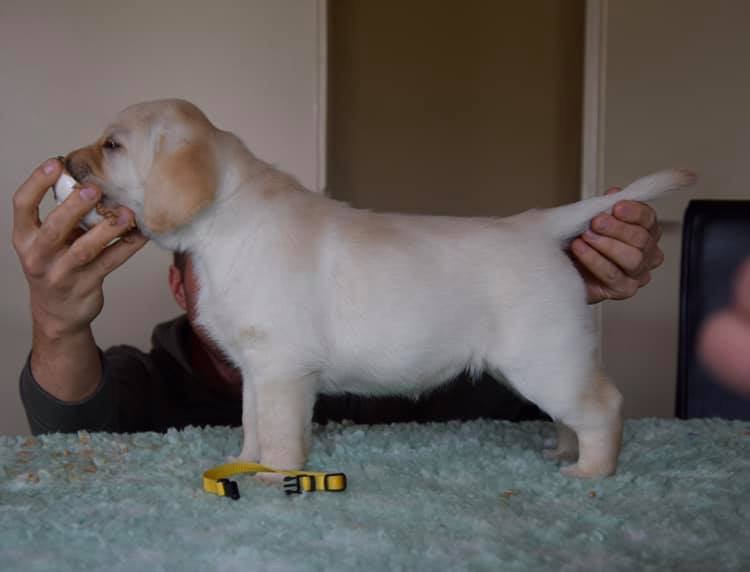 Born at the Eyes of the River kennel, 6.5 weeks old, out of Mattand Sneak a Peak (Imp.UK)