20x CAC, 8x Res.CAC, 7x BOB, 2x Youth Winner '06 (in Holland and Austria), Schallaburg Jugendsieger '06, Bundessiegerin '07, 1st place Openclass
+ CAC World Dogshow 2008, Austrian Champion, BOS at our Open Clubshow of the Dutch Labrador Club 2008, German VDH Champion,
Dutch Champion, qualified for Dog of the year 2008, qualified for Crufts, Studbook number (UK), International Show Champion, Rheinlandsiegerin 2010
Pixie is our 3rd "Woefdram's" generation. She's a kind, affectionated bitch with an active character. Also a happy girl who loves the showring
and enjoys every minute of it.
In 2009 she got her first litter by our Troy. It turned out to be a nice and healthy litter. One of them is Woefdram's Whiskey for Romeo, he lives in Germany.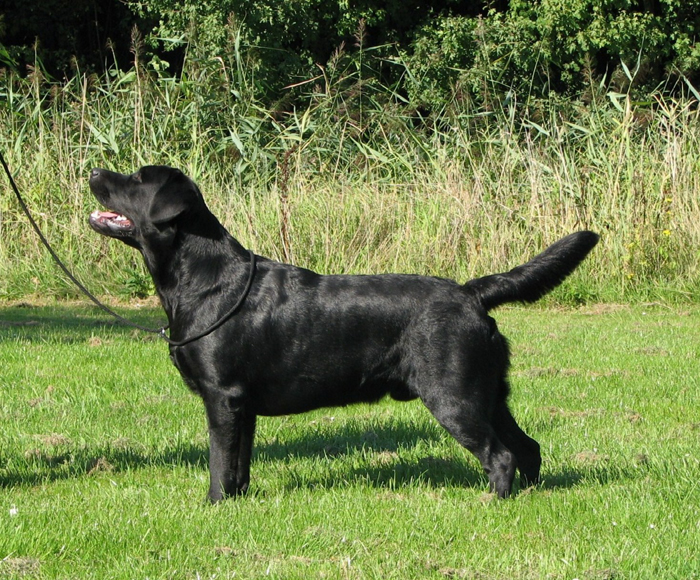 When Pixie was 5 weeks in whelp of her 2nd litter (end 2011) she got a miscarriage. Unfortunately she got pyometra and we spayed her. We're very
sad as this means the end of the line we started 15 years ago with. But on the other hand we're able to look back at those lines with a lot of
pleasure and satisfaction. Pixie is the best bitch we've ever had and she made our kennel Internationally known. Pixie is now retired and lives
with our friends Fam.van der Hof in France.

Here are a couple of reports, written about Pixie:
Very nice yellow bitch with lots of qualities. Nice head, good neck and shoulders. Good body and quarters and set of the tail. Sound mover and well handled (Mr.Woolf)
Excellent type with a marvelous head & expression. Excellent pigmentation, good neck & topline. Excellent front & bone, excellent ribcage. Correct proportions of body.
Well angulated. Excellent mover with a perfect tail. (Mr.Borges)
Beautiful balanced bitch with kind head and expression. Excels in neck and shoulder. Good topline and tailset. Good ribcage. Strong quarters, superb mover (Mrs.Prior)
Yellow of compact body shape. Nice head, good pigmentation. Good eye color. Clean, strong neck flowing into well placed shoulders. Level topline and good tailset. Good depth of body.
Good turn of stifle. Stands four-square, shows well and moves with ease around the ring from her very powerful hindquarters (Mr.Givan)
Beautiful head and expression. Correct bite. Nice front angulation. Tight feet. Nice topline and ribcage. Good rear angulation. Excellent tail. Very sound bitch, moves with drive (Mr.Homem de Mello)
20 months old yellow bitch of excellent type. She is well balanced and a very sound mover. Feminin head with a kind expression. Very good neck, body, topline and tailset.
Strong quarters, well presented. (Mr.Iversen)
Super type yellow bitch, pleasing head + expression. Very good neck + shoulder. Enough bone, carrying enough weight. Good spring of rib, excellent 2nd tigh + stifle. Good topline + tailset. Moved with drive + purpose. Liked her a lot. (Mr.Stafford)